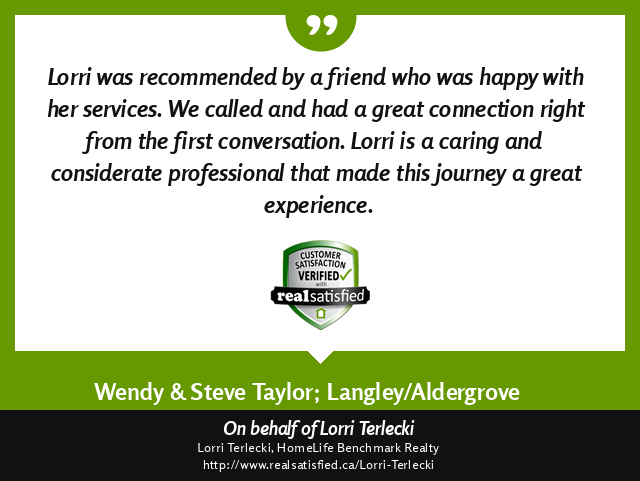 Lorri was awesome. My wife and I are very happy with her professionalism and knowledge as a realtor.
She was there all the time to answer our questions. We looked at so many places and Lorri was so patient and punctual to every showing. I would strongly recommend Lorri to friends and family

.
"Lorri is a pleasure to work with. Very personable and easy-going!

I feel like I have made a new friend with her!!!!"

~Brenda Kennett


Thanks for the great work you did for such kind consideration. We know the sale was somewhat more difficult than the normal transaction, but your diligent work and solid advice help us get to a satisfactory sale.  In the Cruickshank family you have very loyal and appreciative clients. 
                                                      ~Best Regards, Doug & Judy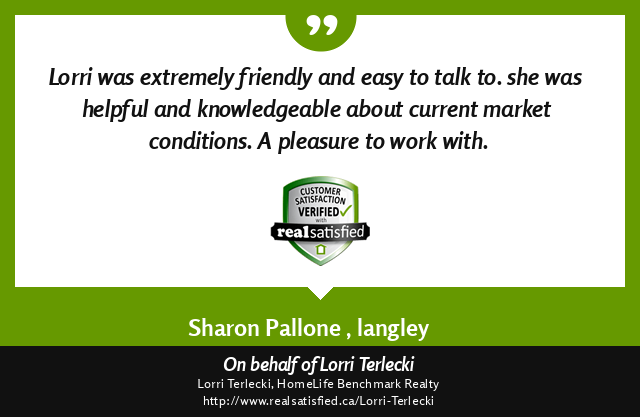 Thanks for being such a great support system through this journey, you are a great realtor  we are glad to have you on our side!
                                                                                                                 

"Best real estate experience we have had!" 



                                                                                                                   We will recommend you to all!
                                                                                                                    ~Wendy & Steve
Lorri found us our dream home. She was the best choice we could have made. She is efficient and fair and handles negotiations with absolute finesse. If you are looking for real estate, hire her; you won't regret it.
~ Julianne and Chris
Lorri has helped guide me through 2 sales and 2 purchases over the last 10 years. I have high regard and above all TRUST in her. Each real estate transaction has been handled thoroughly professionally with kindness and understanding. Lorri has always been supportive to ensure that the best business decision was made in my best interests.
I would recommend Lorri to anyone who wants first class attention to detail.
Thank you for everything Lorri.
~Cary McCann, Clayton/Cloverdale
Sell me more places! I loved how easy it felt to trust Lorri Terlecki as my rel estate agent. With her positive attitude and knowlege, I would definitely want her to help me with my future investments.
                                                                                              ~Connor Madden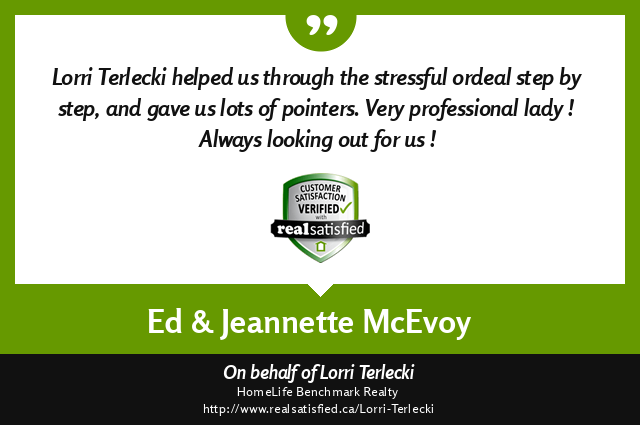 We had bad previous experiences with agents in the Vancouver markets - and my husband and I both were very impressed with the utmost professionalism, expertise, knowledge, and personalism that Lorri embodies. We searched for quite some time to find our new home - and Lorri accompanied us to many homes in many areas - and there was never any pressure to buy something if it wasn't 'just right'. I would absolutely recommend Lorri to my family and friends - she is just a first class lady and wonderful realtor:)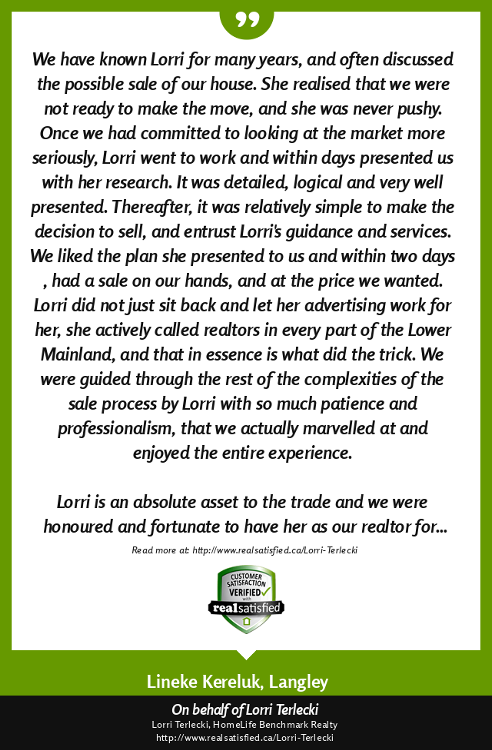 Quick Contact
Lorri Terlecki
Homelife Benchmark Realty
6323 197th Street
Langley
BC
V2Y 1K8
Mobile:
604-837-5433
Phone:
(604) 530-4141
Email:
info@lorriterlecki.com